STROBES & PARTY LIGHTS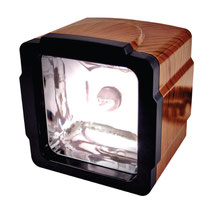 Old School Strobe
Item #ST-534
Master Case: 6
Inner Pack: 1
UPC: 836224001659
This Rocking Old School retro strobe light will be sure to take your party into groovy heights! Featuring a 20 watt replaceable bulb, adjustable flashing speed knob, and faux wood casing. Measures 8 x 8 x 8 inches.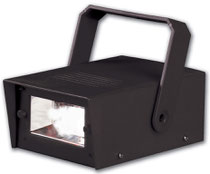 Compact L.E.D. Strobe
Item #VS-602
Master Case: 24
Inner Pack: 6
UPC: 836224001949
Who said small can't be powerful? This compact and cost efficient strobe light has the portability you need to take your party anywhere! Featuring super bright & long lasting white L.E.D. lights, adjustable flashing speed knob, and stand. Battery operated, so you can take it anywhere! Uses 3 AA batteries, not included. Lasts days on one set of fresh batteries. Measures 3 x 4 x 5. 

LED Linkable Lights
Item #VS-LE-3CC
Master Case: 4
Inner Pack: 1
UPC: 836224005473
DJ quality L.E.D. party lights! These lights will flash to the beat of your music! Spots can be rearranged and re linked for multiple looks. L.E.D. lights will last a very long time, and are sure to light up an entire large room. AC adapter included.