STROBES & PARTY LIGHTS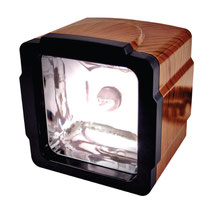 Old School Strobe
Item #ST-534
Master Case: 6
Inner Pack: 1
UPC: 836224001659
This Rocking Old School retro strobe light will be sure to take your party into groovy heights! Featuring a 20 watt replaceable bulb, adjustable flashing speed knob, and faux wood casing. Measures 8 x 8 x 8 inches.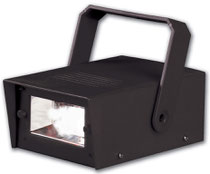 Compact L.E.D. Strobe
Item #VS-602
Master Case: 24
Inner Pack: 6
UPC: 836224001949
Who said small can't be powerful? This compact and cost efficient strobe light has the portability you need to take your party anywhere! Featuring super bright & long lasting white L.E.D. lights, adjustable flashing speed knob, and stand. Battery operated, so you can take it anywhere! Uses 3 AA batteries, not included. Lasts days on one set of fresh batteries. Measures 3 x 4 x 5. 

LED Linkable Lights
Item #VS-LE-3CC
Master Case: 4
Inner Pack: 1
UPC: 836224005473
DJ quality L.E.D. party lights! These lights will flash to the beat of your music! Spots can be rearranged and re linked for multiple looks. L.E.D. lights will last a very long time, and are sure to light up an entire large room. AC adapter included. 
Bubble Machine
 Item #VS-5012
Master Case: 12
Inner Pack: 1
UPC: 836224005633
Bubble machine, with AC adapter included. Optional battery operation if desired for flexible placement. Fun design and sure to produce lots of bubbles! Uses any standard bubble fluid. Packed in a gift box.